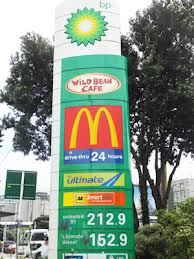 19 December 2012
Petrol tax hike for roads will backfire on government, says party
The announcement that an extra 9 cents excise tax on petrol will be to pay for the government's Roads of National Significance will badly backfire on them, according to the New Economics Party.
Spokesperson Phil Stevens said that if an excise tax is tagged then it should be tagged for rail rather than roads, because road transport is not the future. He said 'While it is important to put a correct price on fossil fuels to discourage their use, the public will know in their bones that the future isn't expressways for more trucks. The future is rail and alternative transport fuels.'
'When the Minister justified this hike by saying the CPI figure was the lowest for 13 years, noone is going to believe him. In fact our inflation figure is a not valid. It is artificially low because since 1999 the cost of land has been taken out of the CPI. Everyone knows that as land goes up, property prices rise and that means households pay more for their rents and mortgages. They know the real figure for inflation is much higher. Ask anyone with a mortgage where their household money goes," he said.
For further comment phone Phil Stevens 06 326 9717 or 021 784 718