Change Tax Policy and Control Banks for Affordable Housing, says New Economics Party
January 31, 2013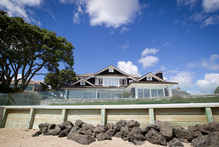 Change Tax Policy and Control Banks for Affordable Housing, says New Economics Party
To get affordable housing we need a tax policy which favours investment in productive enterprises not housing, says the New Economics Party.
"If we don't control capital coming into New Zealand and then don't stop it going into housing through our tax policy, it's no wonder we have a housing bubble in Auckland", said Deirdre Kent, spokesperson for the New Economics Party. "And if we let the banks lend 100% on housing, we are asking for trouble."
Freeing up land and changing the Resource Management Act is not working, she said.
"Banks are pushing money onto buyers and we effectively have a bubble which will eventually collapse. Wealthy Chinese are buying here to get their money out of China where they are clamping down on corruption. A lot goes into real estate.
No progress will be made towards affordable housing until land tenure is separated from buildings, according to the New Economics Party. Spokesperson Deirdre Kent said "Until we (move from income tax to imposing a full ground rent) impose a full ground rent – which can replace income tax as a source of revenue for Government – we won't get any progress. "
She said that when homeowners just have to pay the price of the building, the price of the home is halved. "In Auckland where land is on average 60% of the property price, the price would drop even further if a full ground rent was imposed."
"When property prices rise, it is almost solely because the price of land rises. Generally, the price of the house doesn't rise. When the public captures the windfall from rising land prices instead of the banks and the private owners house prices will be finally contained," she said.
She said some Auckland leasehold land fetched a ground rent of 5% at auction and this money should really be public money because it is the public who has paid for the services to that land in roads, schools, sewers and businesses.
"Others have recently been proposing solutions to affordable housing but they are just tinkering around the edges."
For further comment phone Deirdre Kent 06 364 7779 or 021 728 852.